Fable II
Well shit! I promised myself that I'd never play a Peter Molyneux game, especially Fable II - but after several months of constant and relentless hints, I have finally allowed a copy to enter my beloved console. I have to say that my preconceptions of the game mayhave be slightly unfounded but most of them are spot on. The game starts with a cliché and then continues to steam down the same line throughout. You start out a poor scallywag in a standard fantasy city and then after some horrible murdering, you're taken in by some old women that doesn't seem to age. 10 years later your back for your revenge.
Of course revenge isn't going to happen anytime soon, in fact the people of Britain, sorry I mean 'Albion' seem more interested in helping you in almost every department other than actually helping with the plot. The story has the same problem that so many other RPGs have, in that the NPC's in the game know that you're trying to save the world in which they live but will only help you after you do some menial task for them that they could easily do themselves. Talking of the NPC's, Fable II has the same issue that Fallout 3 has with the same 5 clones of people repeating the same things so often I often thought "Christ! is this how the annual convention for dementia patients sounds like?" then I'd turn the safeties off and go on a killing spree. Of course one of the big points in Fable II is that you can use a wide range of emotional responses to every NPC in the game, however the range to stupidly large when you can just use the same two to get people to like you or hate you. The voice 'talent' for the game has the big problem of a select three or four voices for the entire world, with West Country and Cockney accented people being pleasant and the Scots are the bandits and insulting gargoyles. Just goes to show that Peter is English I suppose. Saying this, guest appearances for Stephen Fry, Ron Glass and Zoë Wanamaker are a pleasant inclusion.
The gameplay is limited due to the 360's controller, with the A button performing the majority of tasks and this can get very frustrating and I often found myself standing around for 20 flow breaking seconds whilst waiting for yet another door to open. Having to use the same button for everything can make things tricky and frustrating. The lack of a jump button means that this sandbox game is actually pretty compressed and linear, there's a massive and to be honest very beautiful world around you and your only allowed to travel on the paths like there's a fucking 'keep off the grass' post every 5 feet. Fable tries to combine the standard RPG classes of ranged, melee and mage and actually does it pretty well - afterall with the lack of clothing effect abilities like in some RPG's makes it easy to use the three sets of weapons at your disposal. Saying this, just putting all your experience points into one area effect spell can break combat when your foes are completely obliterated before than can get within 50 yards.
There is the option to co-op play locally with a friend, enemy or kidnap victim or in fact whoever you want to play with (not like that!) - but to summarise the co-op play very briefly, it's shit. It is essentially the exact same as playing alone, but more unbalanced and frustrating. It isn't a local split screen, oh no, both players are constrained to the same few feet of space and must travel together at the same pace. It's like having two people attached by bungee cords around the waist. Of course the co-op is completely broken, with only the 'main' player actually allowed to interact with anything whilst the other player just sits there stealing half your XP and gold. It's only real value is that it's allowed me to play on the 360 without generating vast degrees of hatred from my girlfriend.
Of course the most annoying thing in the entire game is that fucking dog that you get and can't kill. The Fallout 3 way of being able to kill your canine friend was a much better system. In Fable II your dog will constantly, and I can't over state how constantly I'm talking about, bark about finding a shitty piece of treasure whilst you get your arse handed to you by some ancient monstrosity. Of course, saying this dying isnt the same inconvenience that it is in real life and you'll be up on your feet in a couple of seconds with a random experience deduction.
All of this said, I do very much enjoy being sucked into a fantasy world like Albion. Must be that nostalgic and childish part of my little English mind. I do like the choices that the player can make too, although I do wish that there were a few more along the way. Saying this there are choices to make that can either help a town or plunge it into economic ruin - you get this choice three times with different towns, but by the time the change happens 10 years pass since the event that you caused happened so no one remembers. I've played through the game being very evil, neutral and very good and completed all the different quests and got all but two of the achievements, and you know what? I've just started playing again anyway. I can't wait for Fable III to come out in The Fall, as you may have noticed. 
Overall I'd say the game is a must get, but for any people who have life's and important projects to finish then you should be cautious when buying because it can ruin your life. 9/10 for this one.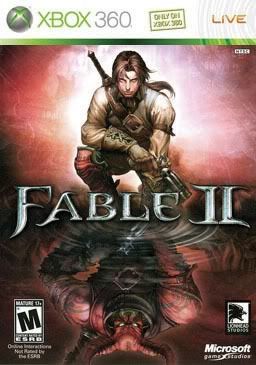 CraigE