Saints Row 2
Bugger me, finally a game with a protagonist that can actually verbalise his feelings towards something. In fact Saints Row 2 even goes so far as to let you pick the voice your character has, so naturally I went for the good ol' Cockney lad. Although it has to be said THQ didn't really think this through, it just seems a little bit wierd having a Cockney crimelord in America surrounded by proper gangstas brov! He just sticks out of the crowd like Wally at a nudist camp. The voices are good though, with all the gangs having very distinct voice sets and the guest appearance of Michael Dorn (if you don't know who that is, then I suggest you look it up or we may have to take this outside).
Right I'm not going to beat around the bush, I'm just going to come out and say it. Saints Row 2 is like GTA, in so much as eating Chocolate Ice cream is like eating a bowl of mud - they may look similar but only one will leave you actually feeling happy. Saints Row 2 is roughly x900500065 better than GTA 4, which is a boring grey vomit pile of a sandbox game. THQ remembered that gaming is supposed to something that people do to unwind after a hard day of bunking off work, and there's nothing fun about having to pick up your cousin and go bowling 5 times a day. There is something fun however, in grab a defenceless old lady and hauling her off the top of the nearest skyscraper, or taking off all your clothes and running around the city trying to avoid the angry boots of those you offend.
The storyline of the game revolves around the same character as Saints Row 2 (conveniently nameless, encase you pick a girl this time) some years after the explosion that was supposed to kill him. At this point you may be thinking "oh god, looks like this has a case of the Bioshock 2's" but no this time the story actually gets better. Put simply, you have to kill your way back to the top of the city that you once controlled - which is now run by evil corporations and new gangs. Although, before you can do the missions you have to complete little mini games that earn you respect - some of these can be laborious but most are good laugh, such as the mini game that allows you to fire shit at public property. The story is much simpler than GTA 4's and there's no alternate ending, but it's a good length and damned sight more fun and colourful.
The option of co-op play is present and it could be fun, if people weren't such assholes. I was playing with some kid for Finland or something, and he just turned around a blow me up and then he did it again and again and again. For no reason, I then booted the little fucker. If you played co-op missions with a mate then it could be more fun but until I try it it won't gain any marks from me.
Although I completed the game ages ago, I've put off finishing the review because of my petty nature - you see I did a load of missions for one of the DLC's and then it crashed and I lost it all, since then I haven't played it. For this I'm only giving it 8/10. But it's a fantastic game and you'll have hours of fun.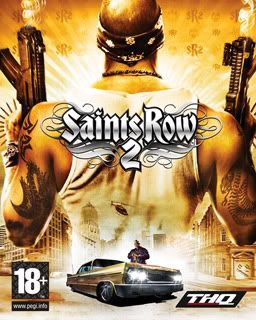 CraigE